BOSS-Talks Inspiring Entrepreneur focuses on sharing stories of entrepreneurs that you can use to organize your business for greater efficiency and profitability.
Speaker and author Tweed Scott in his own words.
Are you a budding author or speaker? How about both? Tweed Scott, author of Texas in Her Own Words, and founder of Tejas Communications, will share a bit of the jouney he started after he left radio. As he would say, "the hours are better".
What would you like to know? Prepare and ask your own questions.
Interviewer: Jan Triplett, Ph.D., CEO, Business Success Center
Here's how to attend this inspiring live interview:
Inspiring Entrepreneur: Tweed Scott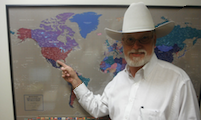 Mon, Oct 23, 2017 12:00 PM – 1:00 PM CDT
Please join my meeting from your computer, tablet or smartphone.
https://global.gotomeeting.com/join/162873493
You can also dial in using your phone.
United States: +1 (646) 749-3122
Access Code: 162-873-493
First GoToMeeting? Try a test session: https://care.citrixonline.com/g2m/getready
There will be time for you to ask questions!
Everyone will get a chance to introduce themselves and add their points about business inspiration. This is part of the Business Success Center's BOSS-Talks (Business Ownership Success Series) and Profit Mover™ program for increasing profitability and efficiency and to take business to the top.
---
BOSS-Talks Inspiring Entrepreneur online live Interviews are the 4th Monday of the month January-November. The next interview is November 20.
At the Business Success Center, we open doors to your business success!