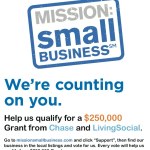 Look out world, here it comes. You read it here first. After a "gazillion" years of how business grants work, the world  has changed. Maybe for good!
Who did it? Chase Bank and LivingSocial. (In full disclosure we are going after this grant. We want to use the money  to take our Owners MBA™ for existing business online, add ebooks, apps, and include special segments for veterans, rural business owners, and owners who are disabled. We also want to create an owners community as we did for our Entrepreneurs' Association in the 1990's.)
Why did they do it? It depends on whom you ask.
What's different? [Read more…]