Business Success Center CEO Jan Triplett on growing a business
What's the best way for you to have the business you want? Your decision should start with your business and professional goals and purpose for having a business, your short and long term vision for that business and your role in its growth, and your values.
Here are the three Great Business™ program choices BSC offers you:
Share the Wisdom Owners MBA™ Programs if you like to learn and do things yourself checking in if you have questions. For those who like to learn from experts.


More on …Share the Wisdom Owners MBA™ Programs give you access to over 50 classes where you can learn from award-winning, successful owners who have built businesses from accounting firms to private zoos, products to services, selling Business to Business, to Government, to Nonprofit, to Consumers.

Owners MBA 1: Street MBA™ fills in the blanks and update you on "business growth musts" and how to balance the need for profit with doing good for people and the planet, the triple bottom line.
Owners MBA 2: Making Money™ focuses on what to sell, where to get sales, best marketing strategy and methods, and attracting and retaining Platinum Profile customers™ while getting rid of the RAW customers, the Radio Active Waste customers, who kill businesses.
Owners MBA 3 Managing Money™ is all about effective financial decision-making and management, pricing for profit, 101 funding options for new and existing businesses, time and costs management, and going beyond just budgeting,
Owners MBA 3 Infrastructure™ gets you organized and helps you stay organized and on course with a focus on HR (hiring, training, compensation, and retention), technology, data management, and best use of outside experts.

Mentor Zone™ Great Business Program if you want a custom guide or mentor to advise you, set priorities, open doors, and keep you on course to accomplish a specific business goal.

Great Business Innovation Circle™ brings people together together to work together and support each other to build a great business faster and safer. The goal is for them to determine how to make their business idea better and to walk away with ways to improve their business. Each cohort is led by a facilitator, usually includes a BOSS-Talks guest speaker, has a different growth focus each meeting, and includes business updates from members on their progress.

Each BSC Great Business™ program covers all six systems or business functions shown in the image below.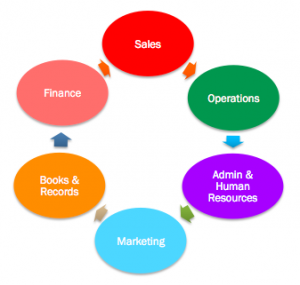 We want to make your business extraordinary.
Here's to your success!