Intellectual Property attorney Andrew Eisenberg will discuss the pros and cons of planning, obtaining, and maintaining intellectual property at various stages of a company's lifecycle. In particular, he will discuss the changing role of IP for pre-revenue startups, early/small businesses, as well as for fortune 500 companies. He will also discuss several models for structuring IP in different industries different industries, and different jurisdictions around the world including both the United States and Europe.
Come early to eat (lunch is on your own). We will start right at noon and end at 1PM so please be on time. Bring cards to share along with your current success!
Moderator: & Host:
Jan Triplett, CEO Business Success Center
About the Presenter: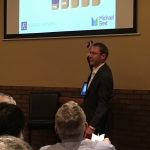 Andrew Eisenberg is a registered patent attorney and current partner with Michael Best & Friedrich LLP.  His area of expertise? Helping businesses to understand the complex legal landscape that lays before them.
He was inspired by start-ups on the Fortune 500 list, such as Audiotoniq – as well failed start-ups that also delivered important experience. He has worked with big-name clients as a partner at Lee & Hayes PLLC, and also began devoting himself to start-ups. Mentoring and speaking about his passion was an obvious progression. Andrew created the Start-Up Law Austin Meeting, has been co-host of 1st Looks Mentoring Program with the Business Success Center, and is part of the  Profit Mover Mentoring™ team that mentors and advises companies throughout Texas.
At Michael Best & Friedrich LLP, Andrew works predominantly with entrepreneurs. True to nature, he has his own start-up. The Small Business Festival aims to promote education and the excitement associated with start-ups. He has big plans for the festival's expansion!